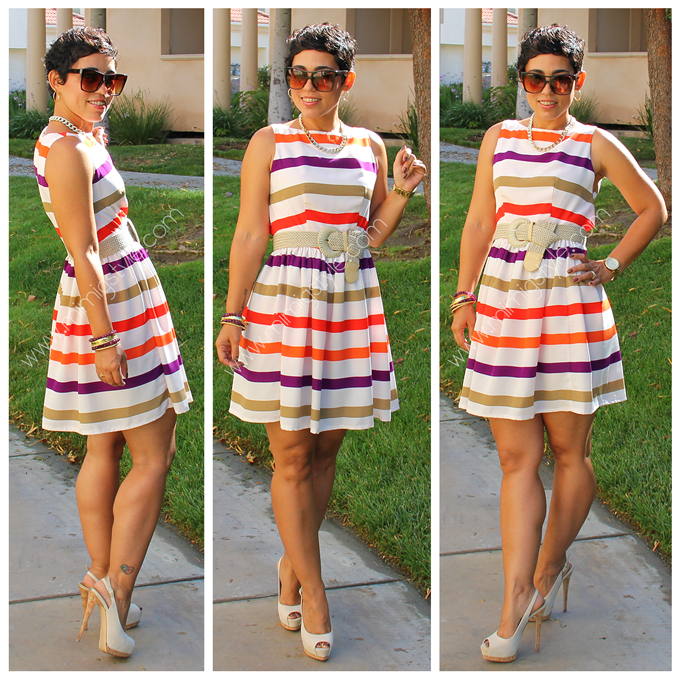 Hi Darlings!
This week is insanely busy with so many projects I have going on that I cant yet tell you about...but they are awesome! and I started the week off a little slow which is why I didn't post yesterday but today I am back up to speed and ready for anything.
*Before I talk about this dress let me just say that I am apologizing in advance for the bad news I am about to tell you.....This fabric is not available... I know, I know but when I bought it there was only a small piece on the bolt it and I took it*
Today I am wearing this dress that has been sitting unfinished in my sewing room for weeks because after I had attached the bodice to the skirt without trying the top on first (ugh!) I realized it was going to be big and dint feel like taking my seam ripper to it so I hung it on my dress form and moved on, lol until this weekend. I pulled it off the form, took it apart and fixed it; the full review and fabric options are below.
Pattern Description:
V8901
Dress has no side seams, close-fitting, lined bodice extending to side back, pleated skirt, side front seams, narrow hem, and invisible back zipper.
.
Fabric Used:
Multi Colored Striped Rayon Blend. The fabric is not available but it would look amazing in THIS, THIS or even THIS!
Use
MIMIJUNE10
at check out for 10% off your purchase.
Pattern Sizing:
I cut the 6
Did it look like the photo/drawing on the pattern envelope once you were done?
Yeah I guess so.
Were the instructions easy to follow?
For a vogue pattern they were pretty
standard and clear.
What did you particularly like or dislike about the pattern?
Well I liked the bodice and variations and I could see it being made
severe different ways but I had a small piece of this striped fabric and so I thought I would use it as my wearable muslin.
Pattern alterations or any design changes you made:
Well....I attached the top to the skirt without trying it on (I know, crazy) and once I did try it on it was too big so I ripped it out and wrapped the sides a bit more until it fit ok and even then it was still loose around the waist which is how it was intended in the design of the dress but to me it just made my waist look wide so I belted the dress. Other then the above mentioned I didn't do much else to it.
Would you sew it again?
No, I don't think I need another one of these but I do recommend it.
DIY Dress (similar)
HERE, HERE, HERE
/ Steve Madden Sling Back Heels (old) BUT I LOVE
THESE
/ Belt (old) Target / Sunnies @ Glitz
xoxo
Mimi G